Commissioned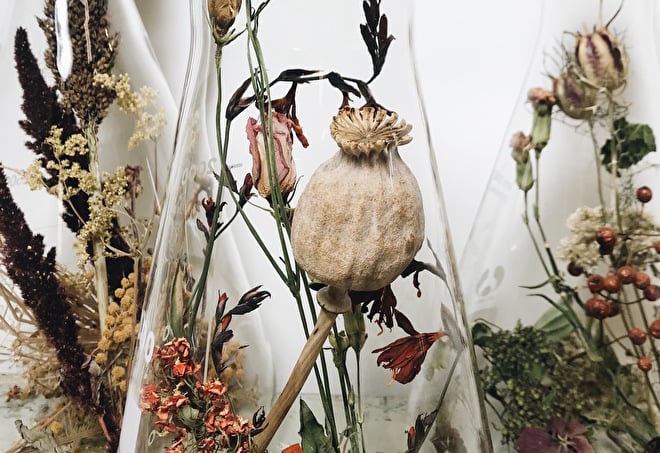 In search of an original wedding favour? Looking for a new born gift which last for a while? Need some lasting decoration in your showroom with class and character? Have a superb cafe but missing out on some pieces on your wall?
Combining your wishes and the possibilities we have we are able to create something which makes you smile.
Danielle & Hariatie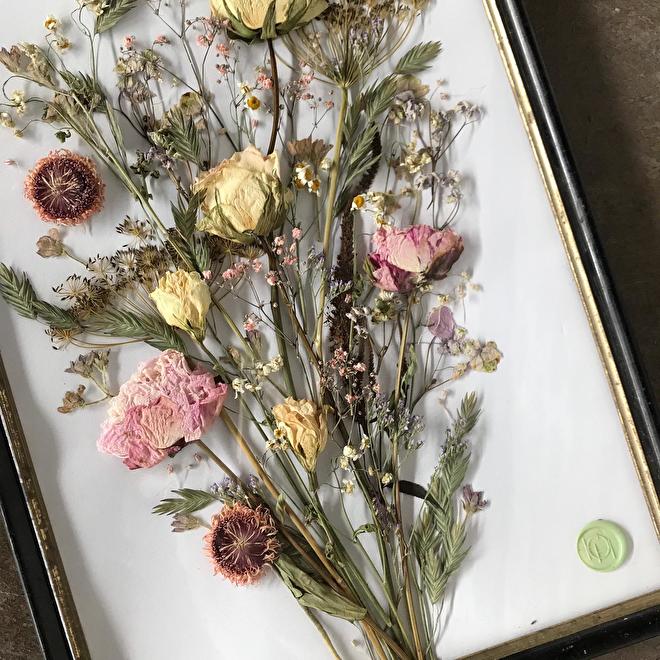 IM work made with the florals from the funeral dried at our studio. The connection between a mother and her daughter is one so strong we have used per flower 2 pcs to symbolize their bond.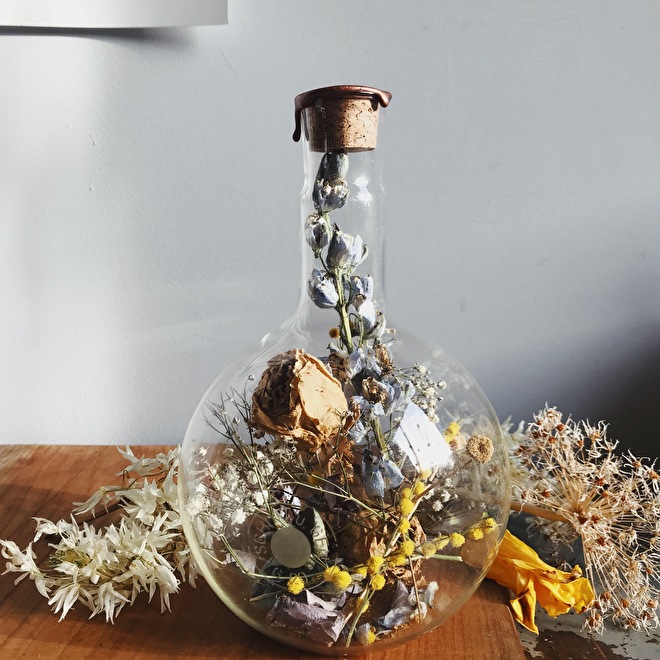 IM Flask. Some of the flowers from the funeral were hanging at the atttic of the client for some years, catching dust and sun, losing all it's color. They were yet so special to her that she decided to bring it to us. We combined them with larkspur and mimosa to symbolize the colors of the Argetinian flag. We are grateful for commissions like this.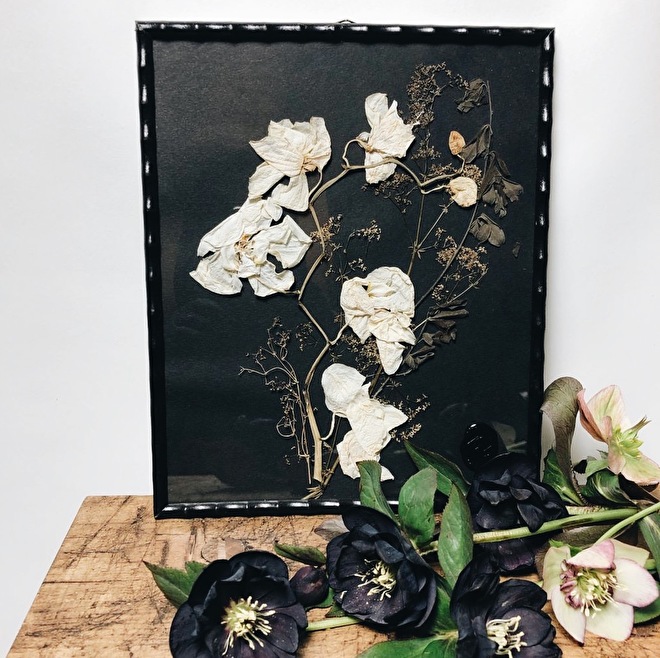 Her husband asked us to make this frame secretly as a gift for her birthday, He wanted modest simplicity yet with a strong character. She was very happy with his surprise he told us.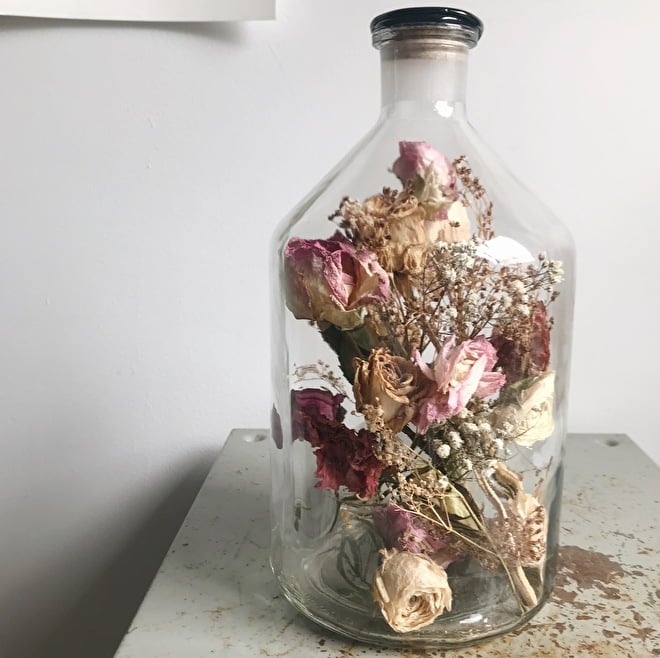 Flask of Hope made with parts of the original bridal bouquet, combined with the same flowers we dried which are still vivid in color. Two years ago this bouquet was a gift from her husband on her weddingday....she kept the bouquet but wanted to preserve it & asked us to create the same feeling in a Flask. Now this piece will be an everlasting gift to him! How romantic!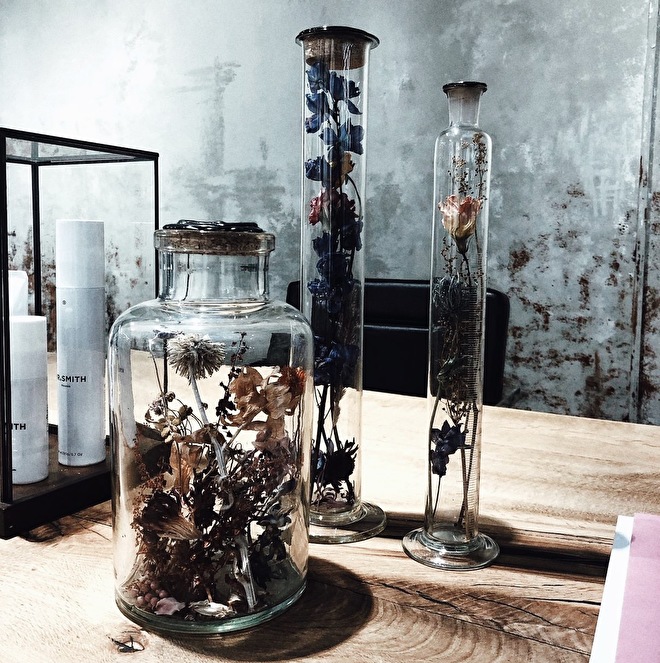 A styled set on display at The Window, a renown hairdresser in Amsterdam. Bold and sturdy glassware, as they prefered, to decorate their salon . (photo by Chantalle Laurent Photography)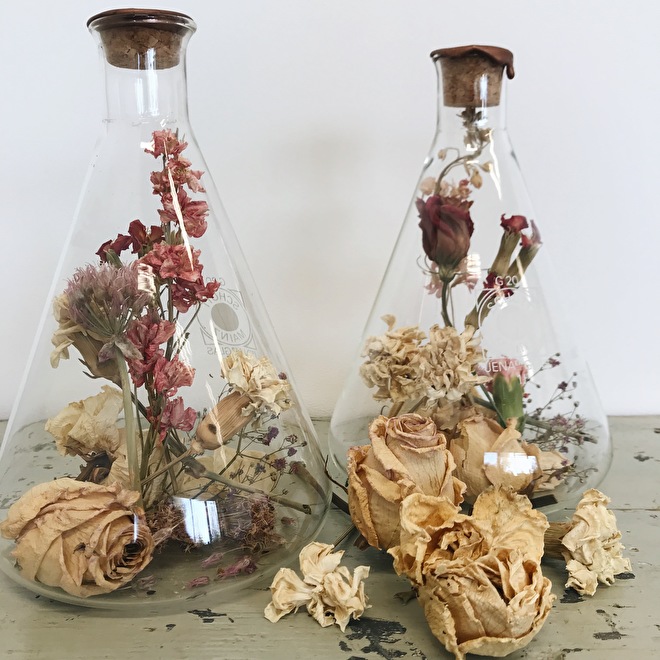 Commissioned work made from a wedding bouquet, 1 flask for the wedding couple, 1 for the maid of honour.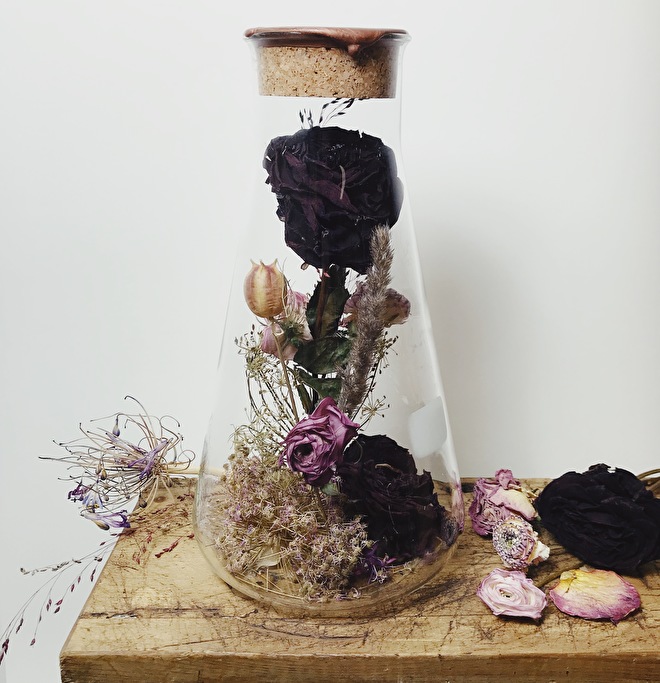 IM Flask, the story behind this arrangement is so full of love! The roses were the last gift the grandchildren gave their beloved grandmother before she passed away. Being a powerfull woman, bolder grass & umbellifers are used to symbolize her character. Ranunculus, the softer part of the arrangement resembles the daughter and dear client who gave us this special commission.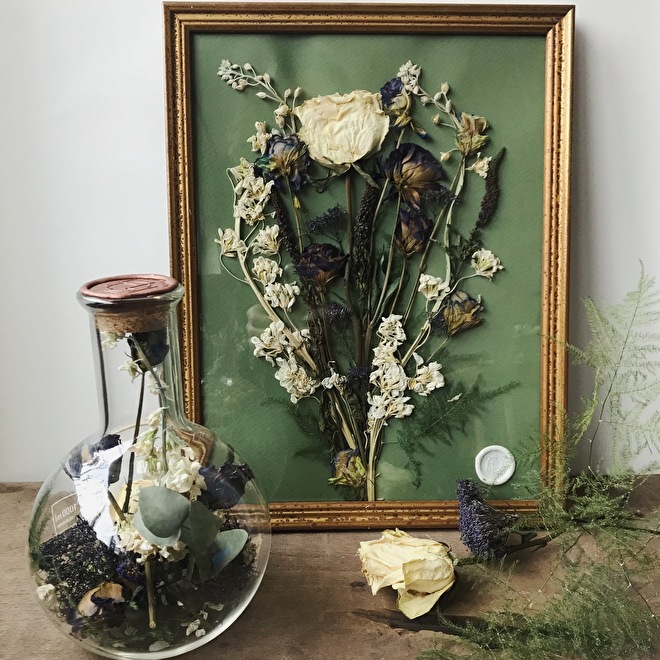 Commissioned set with flowers from a funeral. The gillyflower & rose are the base for the framed arrangement. The flask is arranged with eucalyptus for a bolder look. Commissioned work is very dear to us, we are aware that it is very valuable to those we create it for. In good and bad times...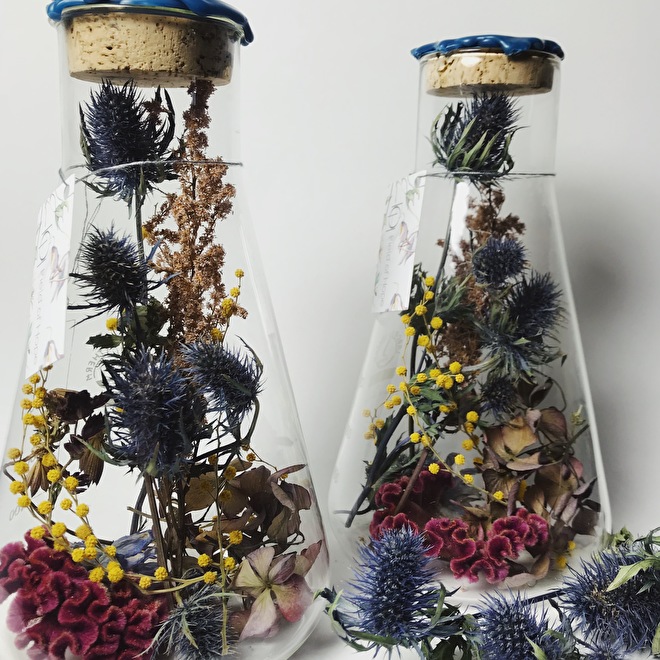 A commissioned set for a very lovely person moving to Scotland, one for her to keep her company and one for her mom who has to miss her.. Since thistles are the national flower we used this as the base for the arrangement. Topping it off with a blue wax refering to the Scottish flag completes it!
Field of Hope
Unique styled sets of dried flowers captured in vintage glassworks and frames. Collected from travelling the world, without harming nature.
Shopping cart
No items in shopping cart.