Frames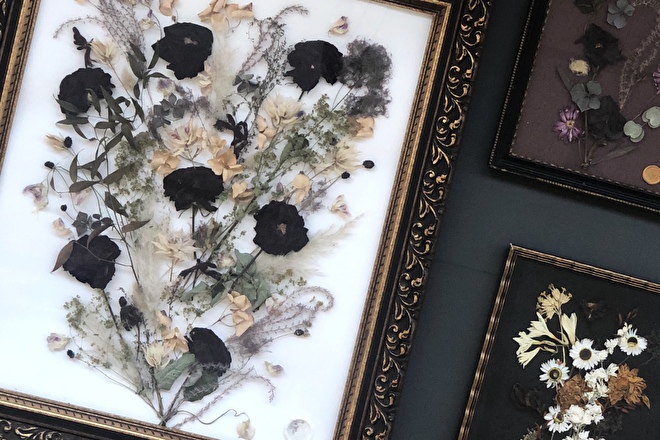 Restored vintage frames filled with dried flowers and grass. Finished with a matching lacquer seal stamp with Field of Hope logo and a hanging system.
The Pleasure Principle

Copper colored frame, special and playful, with it's black striped pattern. The "bouquet" is sunny yet it has an autumn vibe.. There has been made use of the folowing flowers: anthurium, lily, quaking grass, pampus grass,…

€ 99,95

Papa Don't Preach

Delphinium, stefanotis, eucalyptus, baby's breath and hydrangea in a floating composition.. The silver-colored frame is an oldie and seems engraved. Nowadays it's hard to find frames like this. All the frames we use are sourced in…

€ 59,95

When I think of You

Lovely little squared frame combined with grey backgroundpaper. For the composition we used Japanes anemone, clematis and some road side flowers.

All the frames we use are vintage and sourced in The Netherlands or abroad. We only…

€ 44,95

Dance Hall Days

Composition with, amongst others, soft pink gillyflowers, poppies and meadowsweet on a powder pink background. A part of the flowers we picked in the surrounding fields of Amsterdam, the other part is from South-France. The…

€ 99,00

Candy Says

The color palette of this work is inspired by Van Gogh and the composition by the Dutch Masters. We used a whole variety of flowers, if you take a closer look you might discover scabiosa, cornflower, hydrangea, dahlia, gladiolus,…

€ 199,00

Oh Yeah

This frame is petit but with a lot of grandeur. Because of its age it has the inevitable patina, but that's adding to its beauty. Yellow and orange flowers on a dark grey backdrop, waxseal in the color beer. Amongst others the…

€ 59,95

Child in Time

Black with small flowers engraved frame and a burgundy background for this piece. The flowers we used are, amongst others, blue delphinium, white latyrus flowers, lapwing flower and meadowsweet.. We kept the original suspension…

€ 89,95

The Rain

We bought this black frame with golden rim on a antique market in Berlin last winter. It's containing an orange tigerlily, the loose petals of a white latyrus, buttercups and rapeseed for he yellow touch †and pink lisianthus…

€ 69,95

The Touch

Off white vintage frame with copper detailing used dried flowers in this work is lathyrus pressed and dried grasses taken from a trip to Belgium. Finished with our signature wax stamp in white. Our dried flowers are never bought…

€ 79,95

Pictures of you

Lovely black frame with golden rim and a passe-partout made out of black fabric, exceptional and beautiful. A composiotion made from lapwing flower, delphinium flowers, clematis, white lathyrus and Japanes anemone. This frame was…

€ 119,95

In Between Days

The red/yellow gloriosa and the orange leaves of a lily combined with a variety of white flowers and grass make this work a playful eyecatcher. The old-silver colored wooden frame is vintage. The wax seal we chose for this work is…

€ 79,95

The Perfect Girl

Delicate composition made from a variety of whie flowers. We added the red poppy as a contrast and the purple hellebore flowers as midtones. Captured in a carved wooden frame, vintage and therefor unique. Each frame on our website…

€ 89,95

Just Like Heaven

Vintage copper colored frame with a grey inlay. The composition (amongst others) is made of cherry blossom and dark hellebore from our own garden. combined with blue larkspur, white latyrus and orchid. The dark background color…

€ 99,95

Colours Of Spring

cheerfull arrangement in an oval frame on a soft pink background finished with our signature wax.

dimensions 16,5 x 21 cm

€ 44,95

Hounds of Love

small rectangular frame made of wood filled with hellebores and honesty on a white background and small wax stamp Field of Hope.

dimensions 12 x 24 cm

€ 39,95

Sign O The Times

Destroyed heavy patina frame with blueish details filled with an arrangement of eucalyptus, hydrengea and helleborus

dimensions 19 x 25,5 cm

€ 59,95
Field of Hope
Unique styled sets of dried flowers captured in vintage glassworks and frames. Collected from travelling the world, without harming nature.
Shopping cart
No items in shopping cart.