Frames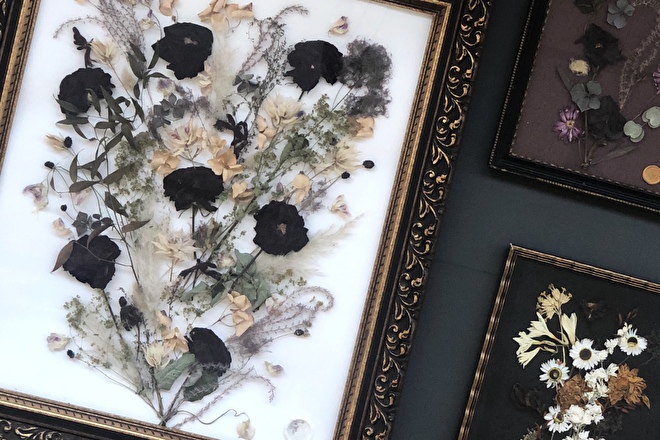 Restored vintage frames filled with dried flowers and grass. Finished with a matching lacquer seal stamp with Field of Hope logo and a hanging system.
Love Will Find A Way

Beautiful frame in mint condition with both golden as black and white edges. All florals are dried in our studio in Amsterdam, for this arrangement only white is used on a solid black background and handpoured wax in black. Our…

€ 69,95

We Belong

Combination of dried orchid arranged with anemone and gilly flower on a soft pink background in a white vintage frame with small golden edge. We have started Field of Hope in 2016 and are pioneers in regards to working with…

€ 39,95

Gloria

White vintage frame with soft grey background and our signature branded wax. Small arrangement of sweet florals are used within this creation. All florals used within this piece are dried and hanpicked by ourselves.

dimensions…

€ 44,95

Baby Jane

The beautiful Artemis wallpaper collection by House of Hackney inspired us to create this frame. A new way of working in which a pattern of field-flowers and cut-flowers was laid on an off-white paper to create this lovely dessin.…

€ 99,95

Maggie May

Soft pastel colors witch black flowers give this work a sweet but edgy touch. Oval shaped frames are quite rare so we find ourselves always vey lucky to find one while we are frame hunting.

Used flowers are butterfly ranunculus,…

€ 49,95

Floating Lily of the Valley

In mint condition round frame with floating glass. The arrangement and the frame are both something we are in love with and actually want to keep for ourselves. but in the end it is lying in our studio in Amsterdam doing actually…

€ 47,50

Brass In Pocket

Beautiful vintage wooden frame with decay filled with dried roses, hydrengea eucalyptus and petals from amaryllis. on a soft beige acid free background finished with our signature stamp. This piece will like our other pieces keep…

€ 179,95

Versailles

Old oval frame with convex glass, due to the glass it was possible to place floral vertically in the center of the arrangement which makes it a piece which is interesting to look at from all angles. Florals used within this…

€ 149,95

Chimes of Freedom

Simple white wooden frame with a horizontal arrangement of handpicked florals which are dried by ourselves in our studio in Amsterdam. Arranged on a acid free bordeaux paper with a handpoured wax in black

dimension 26 x19,5 cm

€ 49,95

Papillon

Beautiful vintage wooden frame with decay filled with dried tulips, anemone, poppies, hydrengea, iris and so much more on a soft blue acid free background finished with our signature stamp. This piece will like our other pieces…

€ 169,95

Isrealites

Subdued and modest arrangement in a vintage frame with beautiful carving.. All flowers used within this arrangement are dried by ourselves in our studio.

dimensions 19,5 x 26 cm

€ 64,95

Kingdom

Beautiful heavy wood round frame with original glass and patina which makes it more authentic. Filled with dried florals mainly from the garden and some leftovers donated by floralshops throughout Amsterdam. It is a playful and…

€ 174,95

Cannonball

Beautiful carved roses frame in mint condition filled with a mainly white arrangement and a lost gingko. Our aim is to use all florals which are leftovers besides that we pick florals and leaves which already fell from mother…

€ 69,95

Never Let Me Down

Inspired by a stay in one of the nicest hotels in Amsterdam The Dylan, where interior mainly is black and white. Arrangement made with petals from lillie, hydrengea and satin floral.

dimensions 21,5 x29,5 cm

€ 79,95

Truly Madly Deeply

Combination of different drying techniques are used within this floral arrangement filled with poppies, anemone, hydrengea and clematis. We have even recycled the old passe partout, all aranged in a beautiful wooden frame,…

€ 79,95

Boxed Hope

Boxed frame in black with a variety of beautiful old small frames filled with sunflower, thistles and artichokes. All arranged on a black acid free background finished with a handpoured black seal. This piece is a new concept and…

€ 399,95
Field of Hope
Dried floral decoration, handmade in Amsterdam since 2016. Unique styled sets of dried flowers captured in vintage glassworks and frames. Available in leading stores. Open for commissioned work
Shopping cart
No items in shopping cart.