Frames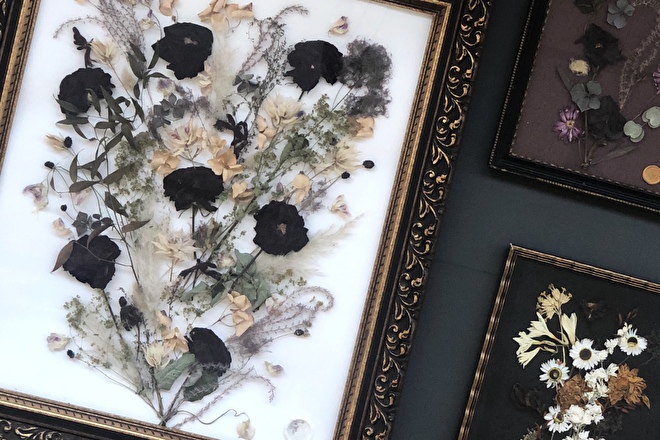 Restored vintage frames filled with dried flowers and grass. Finished with a matching lacquer seal stamp with Field of Hope logo and a hanging system.
Boxed Hope

Boxed frame in black with a variety of beautiful old small frames filled with sunflower, thistles and artichokes. All arranged on a black acid free background finished with a handpoured black seal. This piece is a new concept and…

€ 399,95

I Stole Your Love

Very large oval frame with handcut glass and playful arrangement made on a Lotus leaf. The florals used are subdued colored and are arranged as if they are coming out of the 'water pond' It Is possible to see the work at our…

€ 599,95

I Remember You

Very large frame with new passe-partout filled with colorful arrangement with a large Variety of special flowers like delphinium, orchids, wild lolies, hydrengia, dahlia. It Is possible to see the work at our studio if interested.…

€ 599,95

Opened Once

Gladiolus, two hydrangea species and poppy's on a off-white background in a dark vintage frame.. This piece has a wax seal with our logo in marbled copper/bronze mix. All our frames are recycled, however porvided with a new…

€ 39,95

Forget Her

Beautiful old frame made out of untreated wood combined with an off white background. For this floating composition are two tullips used ( a lilac and a parrot tullip) combined with crocosmia, tullip petals and lady's mantle..…

€ 69,95

Fade to grey

When you air dry a white orchid it almost becomes like transparant paper and all the veins of the flower appear. So this flower is the centerpiece of this work, accompanied by small brown and off white flowers from an other orchid…

€ 69,95

Waves

Silver frame with convex glass. In this frame we could work in the depth, so more robust flowers are used. This floating composition contains a double anemone in red, yellow and purple tulip, mimosa, and pink hyacinth. Dark grey…

€ 79,95

Shadowland

This antique wooden frame (truly an oldie) is brought from France and provided with new glass. Filled with a variety of dried flowers in soft blue and green tones.

The flowers are both pressed or 3d dried and this combination…

€ 139,95

Soldiers of Peace

Beautiful carved wooden frame with burgundy velvet passe-partout and gold leaf edge. Unique model, treasure hunted in France, where we find the most beautiful frames.

Filled with an air dried ranunculus, a pressed white flower…

€ 59,95

Stuyvesant

Subdued frame in gold with neutral and white dried florals. All arranged against a black background finished with our handpoured signature stamp.

dimensions 19x25 cm

€ 59,95

Isrealites

Subdued and modest arrangement in a vintage frame with beautiful carving.. All flowers used within this arrangement are dried by ourselves in our studio.

dimensions 19,5 x 26 cm

€ 64,95

Life Is A Dance

playfull arangement with tulips, poppies and anemone and other soft colored dried flowers in a white frame on a soft pastel pink background. All flowers we use are dried by ourselves in our studio in Amsterdam, we never buy them…

€ 99,95

Got To Get Up

This work is the third one of a triplet, dedicated to the gilly flower: one of our favourites to work with. This time it's combined with dark purple clematis & different grass species. The frame we sourced in France, every now and…

€ 89,95

Papillon

Beautiful vintage wooden frame with decay filled with dried tulips, anemone, poppies, hydrengea, iris and so much more on a soft blue acid free background finished with our signature stamp. This piece will like our other pieces…

€ 169,95

Brass In Pocket

Beautiful vintage wooden frame with decay filled with dried roses, hydrengea eucalyptus and petals from amaryllis. on a soft beige acid free background finished with our signature stamp. This piece will like our other pieces keep…

€ 179,95

Nowhere With Love

Vintage wooden frame with carving arrangement made on acid free paper in pastel blue. Dried floral used are amongst otheres Japanese anemone, pressed technique.

dimensions 16 x 21 cm

€ 42,50
Field of Hope
Unique styled sets of dried flowers captured in vintage glassworks and frames. Collected from travelling the world, without harming nature.
Shopping cart
No items in shopping cart.