Frames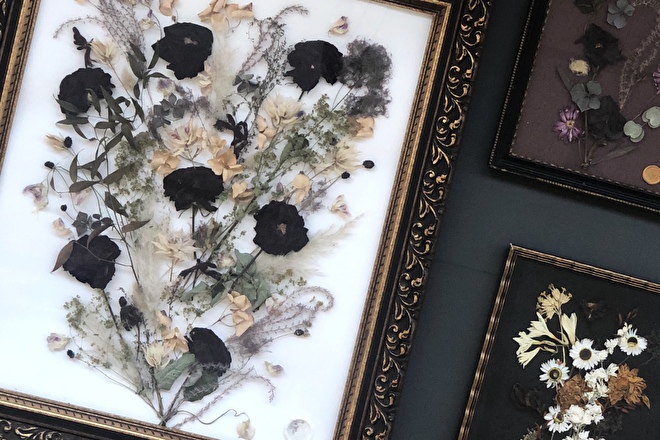 Restored vintage frames filled with dried flowers and grass. Finished with a matching lacquer seal stamp with Field of Hope logo and a hanging system.
Freedom Train

Small vintage frame with a soft pastel pink background filled with clematis, gillyflower & anemone, finished with a copper lacquered seal branded with logo Field of Hope.

Each creation is handmade and unique

size 17,5 x 23,5 cm

€ 69,95

A Mothers Love

This beautiful old frame with passe partout is made with a combination of pressed and hanged dried orchids and detached lilies. By using two different ways of dried flowers the arrangement gets more depth.

measures 30 x41 cm

€ 149,95

Mama's Always On Stage

Playful arrangement with red tulips on a soft pink background finished with a copper seal from Field of Hope. We are inspired with upcoming Mothersday but if you are looking for something else feel free to send us a…

€ 59,95

Mama

Vintage frame with dried helleborus, tulips and detached lilies on a soft pink background finished with our branded seal wax. Each vintage frame and composition is unique and comes with a modern hangingsystem.

measures 24 cm x 29…

€ 129,95

New Moon On Monday

detangled hyacint mixed with petal from tulip on a solid black background and a handpoured black seal in a vintage white frame.

w x h 15 x 20 cm

€ 39,95

Rhiannon

Dried flowers used in this arrangement are gillyflower and different colors orchid, the frame shows slight patina but thats the charm together with the dried flowers

measurements 19 x 24,5 cm

€ 69,95

Lola

Beautiful old carved frame carefully restored. Dried flowers used in this arrangement are larkspur, gillyflower and clematis, we used a blue background for the cheerfull character of this piece.

measurements 18,5 x 25 cm

€ 69,95

Jeanny

Giant tulip combined with ranunculus and small tulips on a soft pink background. The wooden frame has very fine carved details.

measurement b x h 20 x 25 cm

€ 69,95

I Want Candy

This vintage frame has very fine details, golden leaves and flowers, found on a roadtrip through France. We started working with paper from Italy, which looks like icecream. The flowers usd in this arrangement are colourful yet…

€ 159,95

She 's Crafty

Large dark wooden frame with thistles, larkspur, mimosa and different grasses on a solid blue background finished with beer wax seal from Field of Hope. All orders above 100 euro are without shippingcosts and are shipped with…

€ 159,95

Another Silent Day

Flamed carved wooden frame we havent seen a beauty like this before, l filled with soft pink captures from nature and grasses, finished with a tonal pink wax seal. All creations are unique and carefully adjusted to the frame where…

€ 79,95

Breaking Away

Black wooden frame with grasses found in Amsterdam summer 2018 and a completely dried Anemone on a soft blue background.

Measures 17 x22 cm

€ 49,95

Original love

Original Love is a colorful arrangement with maidenstears and different grasses arranged on a lightblue background in a greywashed wooden frame.

measures 20 x25 cm

€ 74,95

Possession

rare oval shaped wooden frame with different flowers used like tulips, grasses & hydrengea, arranged on a solid black background.

measurements 21 x26 cm

€ 69,95

Best Friend

Colorful arrangement on a pink background in an old wooden carved frame. flowers used are amongst others anemone & clematis.

measures 20 x 25 cm

€ 74,95

A good heart

Bold combination of ranonculus and gladiolus in a beautiful carved frame in a soft tone green.

measures 20 x 29 cm

€ 69,95
Field of Hope
Unique styled sets of dried flowers captured in vintage glassworks and frames. Collected from travelling the world, without harming nature.
Shopping cart
No items in shopping cart.