Frames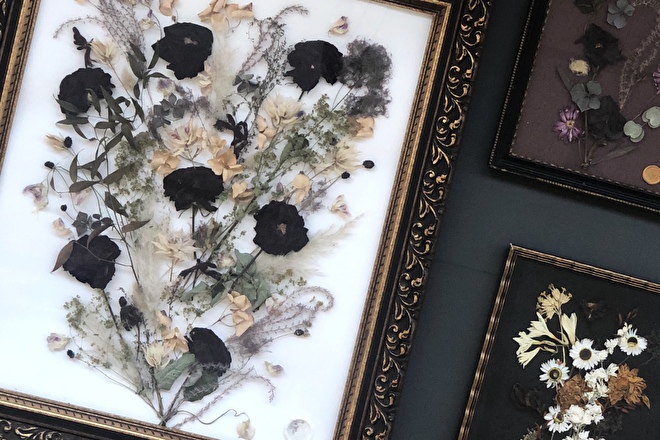 Restored vintage frames filled with dried flowers and grass. Finished with a matching lacquer seal stamp with Field of Hope logo and a hanging system.
Hazy Shade of Winter

Hazy shade of winter is a vertical floral arrangement with helleborus and other leftovers given by a cultivator. Easy to combine with other frames or as a stand alone piece. This piece is created on a soft grey background and…

€ 99,95

The Big Sky

Old detailed frame with bright handpicked grasses, wild flowers and leftovers received from florists. All is arranged on a solid white background.

dimensions 45 x 55 cm

€ 299,95

I Remember You

Very large frame with new passe-partout filled with colorful arrangement with a large Variety of special flowers like delphinium, orchids, wild lolies, hydrengia, dahlia. It Is possible to see the work at our studio if interested.…

€ 599,95

Fame Negative

Our newest product, we have used the sun for the cyanotype prints & completed the arrangement with real dried treasures from nature!.. Limited available & always Unique

dimensions 18 x 24 cm

€ 59,95

Fame Positive

Our newest product is now available! We have used the sun for these cyanotype prints & completed the arrangement with real dried treasures from nature! Finished with our logo wax stamp in a light wooden frame. Always Unique &…

€ 59,95

Baby, come to me

The soft tones of the pink clematis, meadow sweet en pink delphinium in sharp contrast with the dark ranonculus and hellebores. We used a lovely mid-green color in a soft tone as background. The silver colored frame has some…

€ 89,95

A Heart In New York

Vintage wooden large frame with arrangement of different dried orchids, larkspur and hydrengea. All flowers are dried in our studio, where several techniques are used to obtain the best result, this process can take up to several…

€ 199,95

Holding Out For A Hero

Soft coloured arrangement on a soft pink background, a variety of handpicked wild flowers combined with ranunculus in a vintage gold frame.

dimensions 22 x 26 cm

€ 74,95

A Groovy Kind Of Love

Heavy sturdy vintage frame with a floral arrangement made with Helleborus, grasses and cow parsley on a solid grey background. Comes with a unique name and a modern hangingsystem.

measures 21,5 x 29 cm

€ 74,95

Destination Unknown

Detaching lillies and create new species! sometimes we just want to make fun with our creations! Here we used clematis, dried petals from lilies, random stamens, eucalyptus & different dried treasures found in the…

€ 79,95

The Beautiful Ones

Rare and very special oval frame, with lovely old glass, in very good condition. Filled with "dancing flowers" on a pale blue background. Sandersonia (the bells), fritillaria persica, blue hyacinthus and purple gillyflower.…

€ 119,95

Give it to me baby

Large Frame of Hope in a lovely vintage frame with just the right amount of decay. The used flowers are ao: dark and white helleborus (received from a cultivator after the season), poppies from the field, wild anemone from a…

€ 139,95

Nightshift

A work with a strong contrast and a botanical feel, in which a lot of wild flower are used. We pick and dry all our flowers ourselves and this spring we went to Midi-Pyrenee to collect wildflowers.

Besides sorrel and umbels you…

€ 69,95

Sugah daddy

Composition made of pressed flowers, picked this spring in the Midi-Pyrenee, France, and airdryed flowers. Sturdy yet romantic ranunculus in white and soft pink tones combined with the freshnes of the forest anemone. Arranged on a…

€ 49,95

Free Fallin'

XXlarge arrangement where different flowers were used which come from different soil. The Helloborus is given by a cultivator, the gillyflower are leftovers from our fav flowershop who gives us on a weekly base their overstock. On…

€ 329,95

Changes

really small vintage frame filled wiht 4 different dried treasures from nature. finished with a small logo Field of Hope. Small pieces are intensive in labour they sometimes are more intensive then larger pieces. Imagine working…

€ 34,95
Field of Hope
Unique styled sets of dried flowers captured in vintage glassworks and frames. Collected from travelling the world, without harming nature.
Shopping cart
No items in shopping cart.