SHOP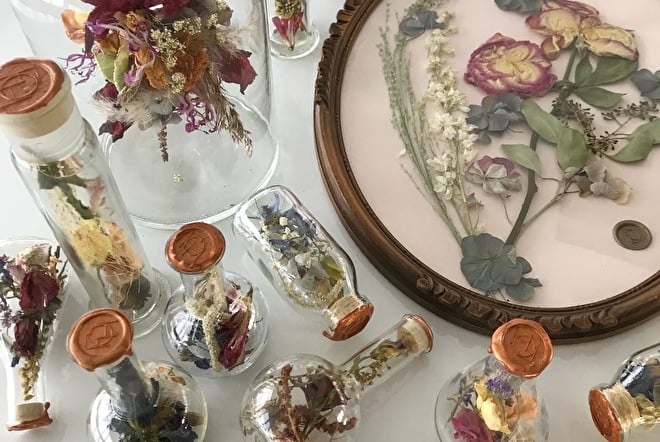 All glasswork and frames we use are vintage. We found them during our travels around the world. Every flask or tube is being cleaned carefully before we fill them with treasures from nature. Frames are where neccesary repaired and come with a solid hanging system. However imperfection and decay are a must! This results in characteristic pieces with used effects. We capture nature in a lasting way, to be enjoyed in your home.
Everything you see in our shop we have created with a smile on our face, we want to pass this smile on!
Hold Back The Rain

Playfull arrangement with a variety of beautiful dried roses accompanied with leaves from Gingko which is rare but to be found in front of our home in Amsterdam. All roses used are donated by several floralshops throughout…

€ 349,95

Circular Flower || Béla

New concept: Free Form Circular Flowers

Wreath with a base of fresh willow branches and twigs that are sprouting. The branches will dry in this form and the young leaves will dry on the twigs. Using the branches like this allowed…

€ 39,95

Flask of Hope SPERARE 100 II AQ3

Recycled labglass filled with dried flowers finished with a handpoured wax. This small vintage find was bought from a school which didnt use these models anymore. It is a true beauty with a history and a beautifull neck.

height…

€ 29,95

Flask of Hope Sperare 250 II AP7

Soft coloured treasures from nature captured in this round recycled glass. This composition is mainly made from leftovers we receive from Flowershops throughout Amsterdam who choose to recycle the leftovers they have. Topped with…

€ 39,95

Gloria

White vintage frame with soft grey background and our signature branded wax. Small arrangement of sweet florals are used within this creation. All florals used within this piece are dried and hanpicked by ourselves.

dimensions…

€ 44,95

We Belong

Combination of dried orchid arranged with anemone and gilly flower on a soft pink background in a white vintage frame with small golden edge. We have started Field of Hope in 2016 and are pioneers in regards to working with…

€ 39,95

Love Will Find A Way

Beautiful frame in mint condition with both golden as black and white edges. All florals are dried in our studio in Amsterdam, for this arrangement only white is used on a solid black background and handpoured wax in black. Our…

€ 69,95

Flask of Hope Bali 1500 || AX4

This vintage pharmacy jar comes from a batch that we bought from an old pharmacy / herbal store, complete with labels and sometimes with the herbs still in it. We use old glassware as much as possible. We clean it thoroughly…

€ 89,95

Flask of Hope Sperare 1000 | BA11

Round flat bottom flask with very narrow neck. Rare model, lovely retro size indication on the neck. Because of the tiny opening of the flask there is a lot of patience and accuracy needed while filling. We used pink, blue and…

€ 74,95

Baby Jane

The beautiful Artemis wallpaper collection by House of Hackney inspired us to create this frame. A new way of working in which a pattern of field-flowers and cut-flowers was laid on an off-white paper to create this lovely dessin.…

€ 99,95

Maggie May

Soft pastel colors witch black flowers give this work a sweet but edgy touch. Oval shaped frames are quite rare so we find ourselves always vey lucky to find one while we are frame hunting.

Used flowers are butterfly ranunculus,…

€ 49,95

Flask of Hope Harapan xs giftset || BA19

Set of 5 small flasks, filled with a variety of dried flowers and grasses. Each tube is topped of with a different color wax-seal, the colors are beer, dark copper, golden copper, white and black. Comes in a giftbox with botanical…

€ 40,00

Floating Lily of the Valley

In mint condition round frame with floating glass. The arrangement and the frame are both something we are in love with and actually want to keep for ourselves. but in the end it is lying in our studio in Amsterdam doing actually…

€ 47,50

The Big Sky

Old detailed frame with bright handpicked grasses, wild flowers and leftovers received from florists. All is arranged on a solid white background.

dimensions 45 x 55 cm

€ 299,95

Renegade of Funk

Hanging composition that looks like the contour of a wysteria flower. Gilly flower en helleborus in the leading roll, assisted by different species of grass. By using different drying methods this work got an extra dimension. De…

€ 89,95

The Pleasure Principle

Copper colored frame, special and playful, with it's black striped pattern. The "bouquet" is sunny yet it has an autumn vibe.. There has been made use of the folowing flowers: anthurium, lily, quaking grass, pampus grass,…

€ 89,95
Field of Hope
Dried floral decoration, handmade in Amsterdam since 2016. Unique styled sets of dried flowers captured in vintage glassworks and frames. Available in leading stores. Open for commissioned work
Shopping cart
No items in shopping cart.