Shop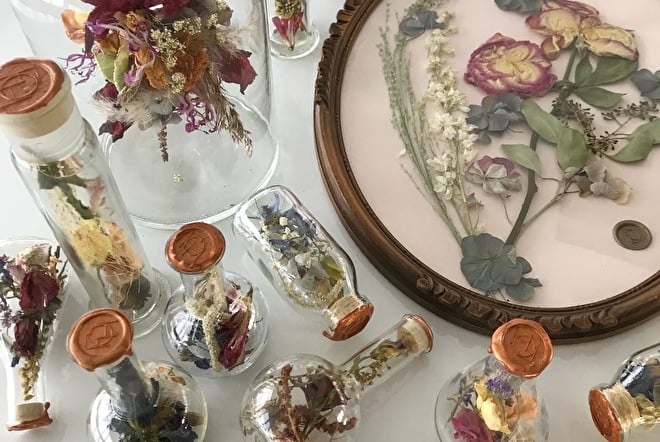 All glasswork and frames we use are vintage. We found them during our travels around the world. Every flask or tube is being cleaned carefully before we fill them with treasures from nature. Frames are where neccesary repaired and come with a solid hanging system. However imperfection and decay are a must! This results in characteristic pieces with used effects. We capture nature in a lasting way, to be enjoyed in your home.
Everything you see in our shop we have created with a smile on our face, we want to pass this smile on!
Forever Nineteen

Beautifully carved wooden frame with wild arrangement of flowers and grasses on a solid pink background.

measures 25 x31 cm

€ 129,95

I Want Candy

This vintage frame has very fine details, golden leaves and flowers, found on a roadtrip through France. We started working with paper from Italy, which looks like icecream. The flowers usd in this arrangement are colourful yet…

€ 159,95

She 's Crafty

Large dark wooden frame with thistles, larkspur, mimosa and different grasses on a solid blue background finished with beer wax seal from Field of Hope. All orders above 100 euro are without shippingcosts and are shipped with…

€ 159,95

Another Silent Day

Flamed carved wooden frame we havent seen a beauty like this before, l filled with soft pink captures from nature and grasses, finished with a tonal pink wax seal. All creations are unique and carefully adjusted to the frame where…

€ 79,95

Breaking Away

Black wooden frame with grasses found in Amsterdam summer 2018 and a completely dried Anemone on a soft blue background.

Measures 17 x22 cm

€ 49,95

Original love

Original Love is a colorful arrangement with maidenstears and different grasses arranged on a lightblue background in a greywashed wooden frame.

measures 20 x25 cm

€ 74,95

Possession

rare oval shaped wooden frame with different flowers used like tulips, grasses & hydrengea, arranged on a solid black background.

measurements 21 x26 cm

€ 69,95

Best Friend

Colorful arrangement on a pink background in an old wooden carved frame. flowers used are amongst others anemone & clematis.

measures 20 x 25 cm

€ 74,95

A good heart

Bold combination of ranonculus and gladiolus in a beautiful carved frame in a soft tone green.

measures 20 x 29 cm

€ 69,95

Listening wind

Helleborus, clematis, maidens tears are used within this arrangement which has depth through the use of pressed flowers and hanged flowers. The passe partout and frame are both vintage and recycled, comes with a new…

€ 99,95

My ever changing moods

Ranonculus combined with lilium speciosum on a soft beige background in a black vintage frame, perfect in a setting with other frames.

measures 17 x 18 cm

€ 39,95

Waiting on a friend

Beautiful old vintage frame with dito passepartout in bronze. We used a lot of dried ranoncles in this arrangement. The frame itself has usage marks but thats the charm combined with a background which matches the frame and passe…

€ 159,95

In the morning

2 complete roses are carefully deconstructed and re arranged in en new arrangment with leftovers from lillies and umbellifer last ones are taken from a trip made in 2017 to France. The others are leftovers from a little boutique…

€ 79,95

You and me part 2

Beautiful wooden knotted frame with a comple dried lilac, deconstructed and rearranged on a army background with grey stamp Field of Hope.

measures 28 x 35 cm

€ 89,95

Little lies

lots of details and precision work within this tiny frame on a solid army colored background. Mimosa leftovers & hydrengea are used within this arrangement. A frame how big or small is always handmade and unique.

measures 20 cm x…

€ 39,95

Flask of Hope KIBO 200 II R4

Recycled labglass filled with different treasures from nature, sealed with a copper seal wax. Perfect to give as a present since each piece is unique.

dimensions 13 cm height or 5,11 inch

€ 39,95
Field of Hope
Unique styled sets of dried flowers captured in vintage glassworks and frames. Collected from travelling the world, without harming nature.
Shopping cart
No items in shopping cart.